The ONLINE or PRINTED EDITION one-stop LAND DEVELOPMENT Resource Guide to find the exact land development product you need including stormwater detention or treatment, conveyance pipe or structures, waterworks including sewer and domestic water, and erosion control.


(click here for details)
We provide you with a comprehensive list of the land development industries manufacture's you need. Whether it is a unique one of a kind product or an ever-day off-the-shelf item. You can find the comprehensive list of manufactures here.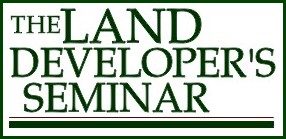 THE LAND DEVELOPER'S SEMINAR is the only seminar out there specifically tailor for you the LAND DEVELOPER. There is certainly more to a successful land development project than just hiring an engineer and architect. THE LAND DEVELOPER SEMINAR will take you from conceptual design through the permitting process all the way to Asbuilts and certificate of occupancy. Click here or call (888) 366-7449 to find out how you can save 1-2 months and $10-20,000 on your next project simply by learning what the experts already know and doing what they have done. Sure, you can learn this material on your own but how much will it cost you in time and money? Certainly more then the tuition price for the seminar.
Your satisfaction is guaranteed. If we do not deliver you the most comprehensive land development course that will enable you to start saving you both time and money the day after you have attended this class we will refund 100% of your tuition fee.
THE LAND DEVELOPER, LLC is dedicated to your education. We are not interested in designing your project but we will give you sound advise as a second opinion. If you are wondering if your engineer or architect is giving you sound advise; if you are curious if there is possibly a cheaper way to do it just send us an email or give us a call. As a part of your seminar tuition you will receive 6 months free Ask the Expert. This service normally sells for $59.95 per month.

All logos and trademarks in this site are property of the respective owner. All articles, graphics, and news appearing in this site are copyright protected and may not be copied, re-posted, or published without the written consent of THE LAND DEVELOPER, LLC. Content on this site may not necessarily reflect the thoughts or opinions of THE LAND DEVELOPER, LLC. Copyright © 2005